Medical Physics Residency Program Overview
The residency program in medical physics opened in 2007. Previously, physicists were trained on the job informally. Establishment of the medical physics residency program formalized the training, leading to our  program gaining CAMPEP-accreditation in 2016.
Curriculum
The curriculum is comprised of 14 rotations having durations as short as two weeks and as long as 3.5 months. The first and last rotations are not clinical. In the first rotation residents go through orientation and mandatory training required by the University and Banner Healthcare. They also complete professional learning modules covering ethics and leadership. In the final rotation, the resident is prepared for graduation, the program director performs a complete review of the resident's training and the resident provides a complete review of the residency program.
Clinical Rotation Objectives
Each rotation is comprised of clinical procedures. The objectives of the clinical rotations are for residents to learn to perform the tasks necessary to implement the clinical procedures and understand the scientific rationale for them. Residents learn the theoretical basis and scientific rationale for the clinical procedures addressed in the rotation by studying the appropriate documents. Residents receive hands on training to perform the tasks associated with the clinical procedures. Residents are then required to independently complete the tasks, demonstrating their abilities. The order and durations are provided in the table below.
Clinical Rotations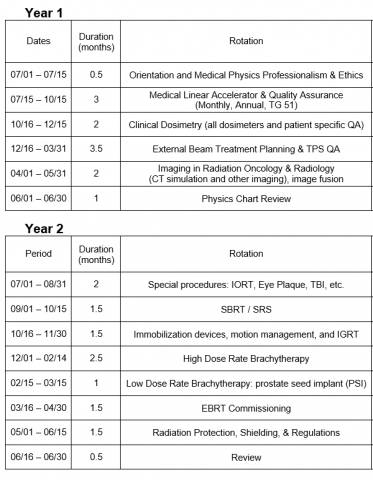 Admissions Requirements 
Residents entering the medical physics residency program shall have a strong foundation in basic physics.  This shall be demonstrated either by an undergraduate or graduate degree in physics, or by a degree in an engineering discipline or another of the physical sciences and with coursework that is the equivalent of a minor in physics (i.e., one that includes at least three upper-level undergraduate physics courses that would be required for a physics major).
In addition, residents must either have graduated from a CAMPEP-accredited graduate program, or possess a PhD in physics or related discipline and have completed a CAMPEP-accredited certificate program.
Admissions Process
We participated in the inaugural AAPM Medical Physics Matching Program in 2015 and we are continuing our participation in the program for medical physics resident recruitment. Applications are collected through the MP-RAP system.
Our program is structured to admit one resident to begin training on or before July 1st each year. Applications are due December 31 and are reviewed in January. Candidates selected to interview are notified of their selection approximately one month to six weeks prior to the interview dates. We conduct interviews on three separate days in late February and early March. Invited candidates are asked to rank their preference of the three days. We attempt to schedule candidates on the day of their first preference. Interviews are conducted via Zoom meeting. Following the interviews, candidate ranks are entered into the Medical Physics Matching Program.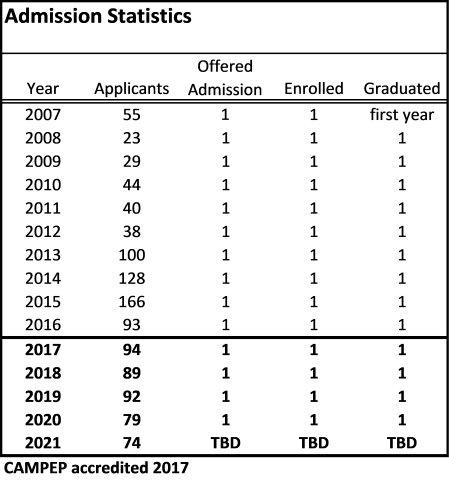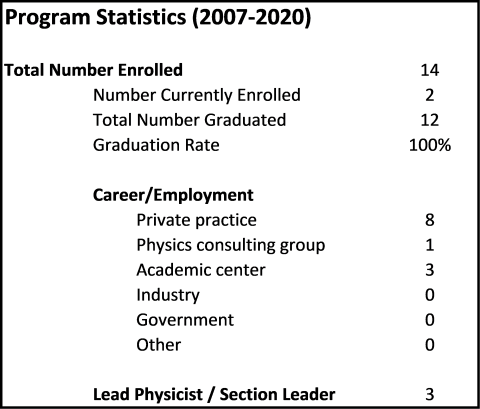 Employment Information (classification, salary, financial support, benefits):
Title: Physics Resident
Department: Radiation Oncology
Compensation: $55,000.00 salary at 1.0 full time equivalency (FTE)
Full Time Equivalency (FTE): 1.0
Fair Labor Standards Act Status: Exempt
Benefits: This position is eligible for benefits, including health and dental plans. To learn more about eligibility, deadlines, and the plans the University offers, please visit https://hr.arizona.edu/, in particular, "Prospective Employees" link.
Retirement Plans: This position is eligible to participate in a retirement plan. To learn more about eligibility, deadlines, and the plans the University offers, please visit https://hr.arizona.edu/, in particular, "Prospective Employees" link.
Conditions of Service: This is a University Staff position covered under Arizona Board of Regents policy, 6-510 and the University Staff Manual. Residents are considered an "at will employee" whose employment may be terminated at any time for any reason that is not illegal.
I-9 & Employment Screening Process: An offer of employment and continued employment is contingent upon the satisfactory completion and successful outcome of the University's pre-employment screening process. The screening process includes, but is not limited to the University's application, validation of references and credentials, and background check. The Immigration Reform and Control Act (IRCA) of 1986 requires that all hires produce documents that authorize your eligibility to work in the United States. As required by law, The University of Arizona will verify all hires' legal status using E-Verify, the federal online verification system. Misrepresentation of your qualifications may be ground for offer withdrawal or employment dismissal.
Required University Training: The University requires all new hires complete the following trainings within 30 days of hire: Preventing Discrimination and Harassment, Title IX for Employees, Arizona Public Service Orientation, and Security Awareness.
Travel: Residents who have an abstract accepted for the AAPM or ASTRO meeting receive a stipend to support their attendance at the meeting.
FOR FURTHER INFORMATION REGARDING THE PROGRAM AND FUTURE OPENINGS WITHIN THE PROGRAM, PLEASE CONTACT:
Russel J. Hamilton, PhD, DABMP
Professor
Department of Radiation Oncology
Banner University Medicine North, Bldg 2
3838 N Campbell Ave
Tucson, AZ 85719
(520) 694-4489