You are here
Lora Wang, MD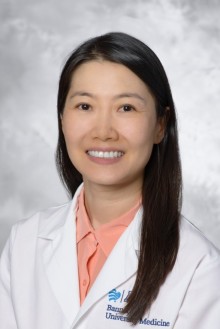 Background
Dr. Lora Wang is an Associate Professor of Radiation Oncology at Banner University Cancer Center, University of Arizona specializing in breast cancer and lymphoma cancers. Her primary research interests are in breast cancer, specifically how to individualize cancer care for patients as well as health disparities research. She received her undergraduate degree in Biomedical Engineering from the University of California, Berkeley followed by research time at Stanford University. She graduated medical school from Albany Medical College and completed her residency in Radiation Oncology from Fox Chase Cancer Center in Philadelphia where she served as chief resident 2014-2015. She and her husband enjoy outdoors activities, traveling, and cooking. 
Professional Affiliations:
American Radium Society (ARS)
American Society of Therapeutic Radiology & Oncology (ASTRO)
American College of Radiation Oncology (ACRO)
Clinical
Board Certifications:
American Board of Radiology
Clinical Focus:
Dr. Wang specializes in the treatment of Breast Cancers and Lymphoma.
Education
Fellowship:
Santa Clara Valley Medical Center, San Jose, CA
Residency:
Fox Chase Caner Center, Philadelphia, PA
Medical School:
Albany Medical Center, Albany, NY
Undergraduate School:
University of California, Berkeley, CA
Research
Selected Publications:
Swami N, Nguyen T, Dee EC, Franco I, Baez YA, Lapen K, Wang L, Goel N, Mahal BA, Fayanju OM, Duma N, Chino F. Disparities in Primary Breast Cancer Stage at Presentation Among Hispanic Subgroups. Ann Surg Oncol. 2022 Aug 11. PMID 35953743.

Picado O, Kwon D, Rojas K, Crystal J, Wang L, Mahtani R, Valdes F, Goel N, Kesmodel SB. Impact of genomic assays on treatment and outcomes in locally advanced breast cancer. Breast Cancer Res Treat. 2022 Jul; 194(2): 433-447. PMID 35635580.

Zhang E, Wang L, Shaikh T, Handorf E, Wong JK, Hoffman JP, Reddy S, Cooper HS, Cohen SJ, Dotan E, Meyer JE. Neoadjuvant Chemoradiation Impacts the Prognostic Effect of Surgical Margin Status in Pancreatic Adenocarcinoma. Ann Surg Oncol. 2022 Jan;29(1):354-363. PMID 34114181.

Wang LS, Handorf EA, Wu H, Liu JC, Perlis CS, Galloway TJ. Surgery and Adjuvant Radiation for High Risk Skin Adnexal Carcinoma of the Head and Neck. Am J Clin Oncol. 2017 Aug;40(4):429-432. PMID: 25599317

Wang LS, Handorf EA, Ridge JA, Burtness BA, Lango MN, Mehra R, Liu JC, Galloway TJ. Lymph-node-positive cutaneous nonmelanoma skin cancer: A poor-prognosis disease in need of treatment intensification. Ear Nose Throat J. 2017 Jul;96(7):E12-E18. PMID: 28719713

Shaikh T, Wang LS, Egleston B, Burki M, Hoffman JP, Cohen SJ, Meyer JE. Dosimetric predictors of hematologic toxicity in patients undergoing concurrent gemcitabine-based chemoradiation for localized pancreatic cancer. Pract Radiat Oncol. 2016 Jul-Aug;6(4):e107-e115. PMID: 27032572

Murphy CT, Galloway TJ, Handorf EA, Egleston BL, Wang LS, Mehra R, Flieder DB, Ridge JA. Survival Impact of Increasing Time to Treatment Initiation for Patients with Head and Neck Cancer in the United States. J Clin Oncol. 2016 Jan 10;34(2):169-78. PMID 26628469.

Murphy CT, Li T, Wang LS, Obeid EI, Bleicher RJ, Eastwick G, Johnson ME, Hayes SB, Weiss SE, Anderson PR. Comparison of Adjuvant Radiation Therapy Alone Versus Radiation Therapy and Endocrine Therapy in Elderly Women with Early-Stage, Hormone Receptor-Positive Breast Cancer Treated with Breast-Conserving Surgery. Clin Breast Cancer. 2015 Oct;15(5):381-9. PMID: 25861716

Wang LS, Murphy CT, Ruth K, Zaorsky NG, Smaldone MC, Sobczak ML, Kutikov A, Viterbo R, Horwitz EM. Impact of Obesity on Outcomes After Definitive Dose-escalated Intensity-Modulated Radiotherapy for Localized Prostate Cancer. Cancer. 2015 Sep 1;121(17):3010-7. PMID: 26033633

Wang LS, Shaikh T, Handorf EA, Hoffman JP, Cohen SJ, Meyer JE. Dose escalation with a vessel boost in pancreatic adenocarcinoma treated with neoadjuvant chemoradiation. Pract Radiat Oncol. 2015 Sep-Oct;5(5):e457-e463. PMID: 26077273