You are here
Christopher Morrison, MD, PhD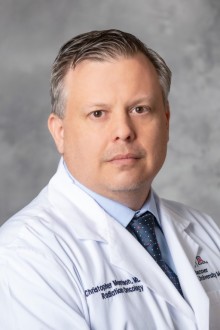 Christopher Morrison, MD, PhD
Contact Information
Office Location:
3838 N. Campbell Ave Building #2, Clinic B Tucson, AZ 85719
Background
Dr. Morrison joined our radiation oncology faculty after completing his radiation oncology residency in our very own department. Prior to his residency, he completed his internship year at Tucson Medical Center's THMEP transitional year program. He is a graduate of the University of Arizona's College of Medicine and a member of the Alpha Omega Alpha (AOA) Medical Honor Society. He completed his undergraduate education in biomedical engineering and mathematics at Tulane University in New Orleans, LA and a Ph.D. in microbiology and pathobiology at the University of Arizona prior to attending medical school. He also has worked as a research scientist in molecular diagnostics for Ventana Medical Systems here in Tucson, a software engineer for a large international media corporation in New York and Los Angeles, and as a freelance photographer with work published by Sports Illustrated, ESPN The Magazine, and numerous newspapers around the country, like the USA Today and Los Angeles Times.
He is married to a near-native Tucsonan and they have two energetic and inquisitive children who keep them busy at home. Outside of work, he enjoys traveling to new places, playing tennis and golf, skiing, and reading.
Professional Affiliations:
American Society of Therapeutic Radiation Oncology (ASTRO)
American Brachytherapy Society (ABS)
Society of Neuro-Oncology (SNO)
Clinical
Clinical Focus:
Dr. Morrison specializes in the treatment of head and neck cancers and sarcomas.
Clinical Practice Sites:
The University of Arizona Cancer Center - North Campus
Southern Arizona VA Health Care System
Research
Summary of Research Activity:
Dr. Morrison has published research in peer-reviewed journals and has presented data at national research conferences. The focus of his research has been on translating the ever-evolving tools of molecular diagnostics into clinically meaningful assays that can directly improve patient care. He is specifically interested in using these cutting-edge tools to personalize the treatments cancer patients receive to both better control their cancers and minimize the side-effects of treatment. While in residency, he earned the RSNA Roentgen Resident Research Award and the University of Arizona College of Medicine GME Resident Excellence and Leadership Scholarship and while a medical student he received the Merck Manuals Award for Academic Excellence, and the University of Arizona College of Medicine Medical Award of Excellence, among other scholarships and awards for his academic achievements.
Selected Publications:
Morrison, Weterings, Gravbrot, Weinand, Stea. Increased expression of DNA repair gene RAD51 associated with shorter overall survival in glioblastoma. Presented at the annual meeting of the American Society for Radiation Oncology (ASTRO). Chicago, IL, Sept. 2019
Morrison, Weterings, Stea. Dysregulation of Wnt Signaling Pathway Correlates with Treatment Outcome in Glioblastoma. Poster presented at the annual meeting of the Society for Neuro-Oncology (SNO) in New Orleans, LA, Nov. 2018
Morrison, Gonzalez, Hsu. Intraoperative Radiation Therapy (IORT) As Sole RT Modality for Breast Cancer:Patterns of Care in the United States Before and After Publication of Guidelines and Randomized Trials. Poster presented at the annual meeting of the American Society for Radiation Oncology (ASTRO) in San Antonio, TX, Oct. 2018
Morrison. Chapter 76: Osteosarcoma in Radiation Oncology: A Question-Based Review, edited by Hristov, Lin, Christodouleas, published by Wolters Kluwer, 2018
Sandweiss, Morrison, Spicher, Rozich. A case report of clonidine induced syncope: a review of central actions of an old cardiovascular drug. BMC Pharmacol Toxicol 2018. doi: 10.1186/s40360-018-0198-1
Goyal, Prabhakar, Davuluri, Morrison, Yi. Role of Concurrent Systemic Therapy with Adjuvant Radiation Therapy for Locally Advanced Cutaneous Head and Neck Squamous Cell Carcinoma. Cureus. 2017. doi: 10.7759/cureus.1784
Slane, Goyal, Grow, Morrison, Hullet, Gordon, Sanan, Stea. Radiotherapeutic management of vestibular schwannomas using size- and location-adapted fractionation regimens to maximize the therapeutic ratio. Practical Radiation Oncology. 2016. doi: 10.1016/j.prro.2016.10.016
Morrison, Hayman, Davuluri, Cranmer, Howell. Neoadjuvant Chemoradiation with Ifosfamide and Etoposide in the Management of Soft Tissue Sarcomas: a Single Institution Review. Poster presented at the annual meeting of the American Society for Radiation Oncology (ASTRO) in Boston, MA, Sept. 2016
McGinn, Day, Pedata, Morrison, Grogan, Rimsza. Automated Dual Color Kappa/Lambda mRNA In Situ Hybridization for Detection of Monoclonality. Poster presented at the annual meeting of the United States and Canadian Academy of Pathology. Baltimore, MD, March 2013