You are here
Anne E. Cress, PhD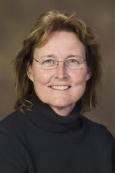 Senior Associate Dean for Academic Faculty and Basic Science Research at the College of Medicine at the University of Arizona

Professor of Cellular and Molecular Medicine and Radiation Oncology

 
Background
Anne E. Cress, Ph.D., is the Senior Associate Dean for Academic Faculty and Basic Science Research at the College of Medicine at the University of Arizona and Professor of Cellular and Molecular Medicine and Radiation Oncology. 
Dr. Cress received her doctoral degree in biochemistry from the University of Arizona. She received further training in the biochemistry of DNA replication at Stanford University in Dr. Robert Lehman's laboratory; peptide chemistry at the University of Queensland in Brisbane Australia and developmental biology at the Netherlands Cancer Institute in Amsterdam, Netherlands. 
In 1981, she joined the faculty of the University of Arizona as a Research Assistant Professor, where she rose through the ranks to become a Professor with tenure in Department of Cellular and Molecular Medicine and Radiation Oncology.  She was one of eleven founding faculty members of the University of Arizona Cancer Center and the Cancer Biology Graduate Program; she founded and led the Cancer Metastasis and Signaling Research Program of the UACC.  She currently is a Senior Associate Dean at the College of Medicine and has oversight responsibility of Basic Science Research and the Promotion and Tenure Process for Academic Faculty. 
Her research program focuses on the integrin survival and signaling pathway and precision oncology approaches for early detection and prevention of invasive and metastatic cancers.  She was a project leader and later, the PI of a program project grant in Prostate Cancer for 15 years. Her research work has been continually supported by competitively awarded extramural sources including NIH, DoD, ACS and ABRC.  
She has trained more than 55 individuals for professional careers in the health sciences, some of which have become national leaders and in some cases, NCI Cancer Center Directors.  She holds several patents in novel technologies and molecular biomarkers and has contributed more than 120 original observations with some publications appearing in Nature, Proceedings of the National Academy of Sciences, Journal of Biological Chemistry, Journal of Cell Science, Oncogene, Cancer Research and Molecular Cancer Research, among others.