Banner University Medical Center - Multi-Specialty Clinic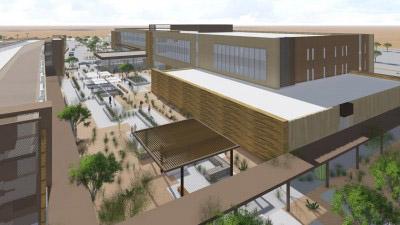 We are pleased to annouce that the Banner UMC Tucson Radiation Oncology department will be moving to a new location in August of 2018.
Banner has invested $100 million to build a new multi-specialty clinic at 3838 N campbell Avenue, just a few blocks north of the medical center and next door to our Peter and Paula Fasseas Cancer Center Clinic. We will finally next door to our Medical Oncology colleagues once again! This new, outpatient clinic will also house Radiology, Lab and various other specialities such as Cardiology, Neurosurgery, CT Surgery, Pulmonary and ENT. This 3 story building will be approxiamately 207,000 square feet. 
The Radiation Oncology clinic will have 5 vaults, one of which will be shelled for future growth. We are in the process of selecting vendors for our 4 linear accelerators, CT sim and planning systems. Some features we are looking forward to include a shell space for a MRI sim, a CT sim in the HDR room to facilitate treatment and patient comfort, a large conference room to conduct chart round and physician offices located near clinic exam rooms.
Being on the same campus with all of our oncology colleagues will help facilitate participation in multi-disciplinary clinics, tumor board and professional collaboration. This state-of -the-art, above ground facility is a much needed upgrade from our current facility and will be very attractive to patients, visitors and the community.